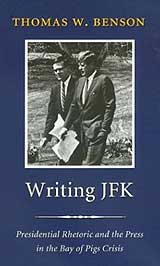 Portada del libro sobre la retórica de JFK y la prensa durante la crisis de Bahía Cochinos.

PERFIL BIOGRÁFICO Y ACADÉMICO

Nacido en 1939, estudió en la Cornell University, Estados Unidos, donde se doctoró en 1966 con la tesis Congressional Debates on the Dies Committee: 1937-1944.
Inició su actividad académica como asistente en el Department of Speech Communication de la State University de Nueva York en Búfalo (1966-1975), que prosiguió como visitante del Departamento de Retórica de la Universidad de California en Berkeley. En 1975 se incoporó como profesor de comunicación oral y retórica en la Pennsylvania State University.
Ha sido director de Communication Quarterly y The Quarterly Journal of Speech. Fundador y editor de CRTNET (Communication Research and Theory Network) y director de la colección Rhetoric/Communication de la Universidad de Carolina del Sur. Director de The Review of Communication (National Communication Association).
Es una de las figuras académicas más relevantes en los estudios de la nueva retórica norteamericana, en los que, por regla general, se tomas los medios como fuente del análisis.
Entre sus libros: Nonverbal Communication (1982); Speech Communication in the 20th Century (1985); The Films of Frederick Wiseman (1989); Documentary Dilemmas: Frederick Wiseman's Titicut Follies (1991); American Rhetoric: Context and Criticism (con Lewis Perry, 1989); Rhetorical Dimensions in Media, 2 ed. (1995); Landmark Essays on Rhetorical Criticism (1993); Rhetoric and Political Culture in Nineteenth-Century America (1996). Reality Fictions: The Films of Frederick Wiseman (con Carolyn Anderson, 2002); Writing JFK: Presidential Rhetoric and the Press in the Bay of Pigs Crisis (2003); Benjamin Franklin's Vision of American Community: A Study in Rhetorical Iconology (2004).


Perfiles biográficos y académicos. Marcos epistemológicos y teóricos de la investigación en Comunicación. Plan Nacional de I+D, CSO2013-47933-C4-3-P | Ministerio de Economía, Industria y Competitividad

LISTA ALFABÉTICA DE AUTORES

RECURSOS EN LA RED


Biografías en inglés [1] [2]

Bibliografía de Thomas W. Benson.

TEXTOS


Permanence and Change in the Global
Village


New Political Journalism


The Rhetoric of the American Presidency


GOOGLE ACADÉMICO (búsqueda autor)