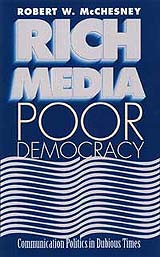 Edición inglesa de
El árbol del conocimiento,
escrito con Varela.
Robert W. McChesney (1952-)

PERFIL BIOGRÁFICO Y ACADÉMICO

Nacido en Cleveland, Ohio (Estados Unidos), estudió periodismo y ejerció la profesión en la sección de deportes de la agencia UPI. En 1979 fundó la revista musical The Rocket. Doctor en Comunicación por la Universidad de Washington (1989). Docente en periodismo en la Universidad de Wisconsin-Madison (1988-1998). Profesor del Institute of Communications Research y de la Graduate School of Information and Library Science de la Universidad de Illinois en Urbana-Champaign.
Académico y activista en favor de la democratización de los medios desde una perspectiva de la historia y economía política de la comunicación. Analiza el oligopolio de los medios y su relación con los poderes políticos y económicos. Fundador y presidente de Free Press, fue director de Monthly Review.
Autor, entre otros, de: Telecommunications, Mass Media, and Democracy: The Battle for the Control of U.S. Broadcasting, 1928-1935 (1993); Corporate Media and the Threat to Democracy (1997); The Global Media: The New Missionaries of Corporate Capitalism (con Edward Herman) (1997); Rich Media, Poor Democracy: Communication Politics in Dubious Times (1999); It's the Media, Stupid! (con John Nichols) (2000); Our Media, Not Theirs: The Democratic Struggle Against Corporate Media (con John Nichols) (2002); The Big Picture: Understanding Media Through Political Economy (con John Bellamy Foster) (2003); The Problem of the Media: US Communication Politics in the 21st Century (2004); Our Unfree Press: 100 Years of Radical Media Criticism (con Ben Scott, eds.) (2004); Tragedy & Farce: How the American Media Sells War, Spins Elections, and Destroys Democracy (con John Nichols) (2005).
Ha sido editado en lengua española Los medios globales : los nuevos misioneros del capitalismo corporativo (con E.S. Herman), Cátedra, Madrid, 1999.

Perfiles biográficos y académicos. Marcos epistemológicos y teóricos de la investigación en Comunicación. Plan Nacional de I+D, CSO2013-47933-C4-3-P | Ministerio de Economía, Industria y Competitividad

LISTA ALFABÉTICA DE AUTORES

RECURSOS EN LA RED


Biografía [1] en inglés.

TEXTOS


Journalism, Democracy, …and Class Struggle


Global Media, Neoliberalism and Imperialism


Let There Be Wi-Fi. Broadband is the electricity of the 21st century—and much of America is being left in the dark (con John Podesta)


Rich Media, Poor Democracy, The New Press, 1999


The Problem of the Media. U.S. Communication Politics in the 21st Century

Corporate Media and the Threat to Democracy


It's the Media, Stupid (con John Nichols)



GOOGLE ACADÉMICO (búsqueda autor)