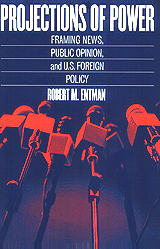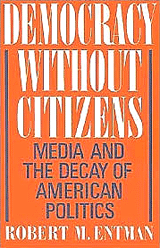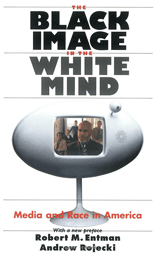 PERFIL BIOGRÁFICO Y ACADÉMICO

Académico norteamericano. Estudió ciencia política en la Duke University y se doctoró en Yale. Amplió estudios Carolina del Norte (Chapel Hill) y California (Berkeley). Comenzó su actividad académica en la Duke University (1980-89), donde enseñó análisis de políticas públicas, periodismo y comunicación; posteriormente a la Northwestern (1989-94), como profesor de comunicación y Carolina del Norte (1994-2004). Actualmente, profesor de medios y asuntos públicos en la School of Media and Public Affairs de la GMU (Universidad George Washington).
Autor, entre otros, de Media Power Politics, con D.L. Paletz (1981); The impacts of media messages on the attitudes of the public toward welfare state liberalism (1985); Democracy without Citizens. Media and the Decay of American Politics (1989); Representation and reality in the portrayal of blacks on network television news (1993); The Black Image in the White Mind: Media and Race in America, con A. Rojecki (2000); Mediated Politics: Communication in the Future of Democracy, con Lance Bennet (2001); Projections of Power: Framing News, Public Opinion, and U.S. Foreign Policy (2003).


EL PENSAMIENTO

De la dilatada trayectoria académica de Entman, destacas sus desarrollos teórico-metodológicos sobre el encuadre de la actualidad mediática a través del framing, enriqueciendo las herramientas y enfoques de la evaluación de los contenidos mediante el enmarcado empleado en la construcción narrativa de la actualidad y la influencia que ese enmarcado ejerce en las audiencias. El enmarcado interpretativo busca obtener resultados concretos en la percepción de las audiencias. En su libro Projections of Power: Framing News, Public Opinion, and U.S. Foreign Policy (2003), plantea el análisis de las relaciones entre los poderes públicos y la opinión ciudadana en Estados Unidos, una vez disuelta la política de bloques. Plantea un modelo de "activación en cascada" de la de intereacción entre los actores de la política nacional cuando la cohesión frente a un enemigo común desaparace o cobra otros perfiles. Y en esa cascada de la interacción, los medios juegan un papel muy relevante entre la política y la ciudadanía. Este modelo permite entender la teoría del framing desde otra perspectiva más compleja de la planteada por Goffman o el propio Entman con anterioridad.
Analista crítico del periodismo norteamericano, cuestiona la independencia de la prensa y describe el círculo vicioso de sus interdependencias en el plano de las relaciones medios-poder político. El fortalecimiento de la sociedad civil americana necesita de medios que eleven la riqueza del espacio público. La calidad de la democracia está relacionada con la calidad del periodismo, pero un periodismo de calidad requiere un público mejor formado, con demandas que no surgen fácilmente en una democracia empobrecida.
Asimismo, ha analizado la degradación de la expresión audiovisual, la creación de estereotipos y la asignación de roles, las jerarquizaciones y exclusiones en el trazado del mapa social norteamericano. En uno de sus libro, The Black Image in the White Mind: Media and Race in America, escrito con Andrew Rojecki (2000), analiza como se hace visible la población negra en el cine y la televisión, qué papeles se les asigna en las producciones de ficción y a qué enmarcados de conducta de les asocia.

Perfiles biográficos y académicos. Marcos epistemológicos y teóricos de la investigación en Comunicación. Plan Nacional de I+D, CSO2013-47933-C4-3-P | Ministerio de Economía, Industria y Competitividad

LISTA ALFABÉTICA DE AUTORES

RECURSOS EN LA RED


Biografías
[1] [2] en inglés

How the Media Frames Political Issues por Scott London


Political communication and civil society
, selección bibliográfica por Prodromos
Yannas



La neutralidad como forma de encuadre en una campaña electoral por Patricio Dussaillant, en Comunicación y Sociedad (2004).


A content analytic comparison of the frames in English and Spanish language newspapers, tesis doctoral de Emily Dulcan (U. de Missouri,
2006)



TEXTOS


How New York City Newspapers
Covered the Budget Crisis after 9/11



Media and the Denial of Race: Blocking Presidential Attempts to Alter the Public Sphere | con Carole V. Bell (2006)



Theorizing US Media Diplomacy



Presentation given at the "American Media and Wartime Challenges"



Democracy without Citizens. Media and the Decay of American Politics (1989), versión digital del libro en Questia


Framing: towards clarification of a fractured paradigm (1993)



GOOGLE ACADÉMICO (búsqueda autor)