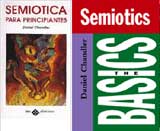 Relacionado: Semiotics (University of Colorado, Denver).

PERFIL BIOGRÁFICO Y ACADÉMICO

Profesor de la Universidad de Gales, Aberystwyth, adscrito al departamento de Teatro, Cine y Televisión, pertenece a la nueva generación de semiólogos británicos, con un recorrido teórico que comprende los lenguajes de los medios audiovisuales (la 'gramática del cine y la televisión'), la publicidad, la cultura y el papel que las tecnologías juegan en los nuevos procesos y modelos de comunicación.
Ha analizado las corrientes teóricas que define la naturaleza de la tecnología, que se sitúan entre los 'neutralistas' -la tecnología es neutra y sus efectos dependen de los usos- y los 'deterministas' -la tecnología lleva implícitos los usos, que pre-programados por quien la desarrolla o controla. Estudia la fenomenología de las relaciones entre el ser humano y la máquina y entiende que hay una visión intermedia, entre los extremos del neutralismo y del determinismo, que dan un margen de autonomía creativa o de libertad al usuario de la tecnología. Con las nuevas tecnologías, aunque tengan un alto grado de programación finalista, existe un grado de 'interacción dinámica', marcada por el contexto cultural y ambiental en los que se desarrollan sus usos. Chandler se acerca a un concepto de 'ecología' de los procesos de mediación, basada en esa interacción dinámica.
Es editor del International Journal of Media and Cmmunication Studies.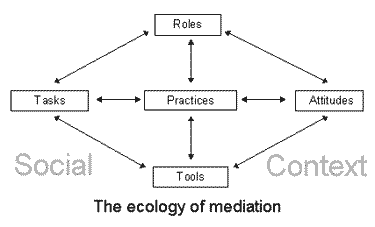 Entre sus publicaciones, Semiotics for Begginers (1994), The Act of Writing: A Media Theory Approach, Aberystwyth, University of Wales, 1995;. The Sapir-Whorf Hypothesis (1995); Cultivation Theory (1995); The Act of Writting: a media theory approach, Aberystwyth, University of Wales, 1996; Semiotics: The Basics, Routledge, Londres, 2001. En lengua española se ha editado Semiótica para principiantes, Eds. Abya-Yala, Quito, Ecuador, 1999.

Perfiles biográficos y académicos. Marcos epistemológicos y teóricos de la investigación en Comunicación. Plan Nacional de I+D, CSO2013-47933-C4-3-P | Ministerio de Economía, Industria y Competitividad

LISTA ALFABÉTICA DE AUTORES

RECURSOS EN LA RED


Bibliografía


Daniel Chandler's Glossary of Key Terms for Semiotics


Recursos sobre Chandler


TEXTOS


MSC - The Media and Communications Studies Site


'Shaping and Being Shaped'


'Semiotics for Beginners' (libro en inglés).

'The Sapir-Whorf Hypothesis'


'The Transmission Model of Communication'


Introduction to Semiotics by Daniel Chandler, adaptado por Tatiana Evreinova



'Semiotic Analysis of Advertisements'


Uses and Gratifications. Why do People Watch Television?


Notes on 'The Gaze'


'Marxist Media Theory'


'Cultivation Theory'


'Biases of the Ear and Eye'


'Analysis of Advertisements'


Personal Home Pages and the Construction of Identities on the Web


Gender-Differentiated Production Features in Toy Commercials (en colaboración con Merris Griffiths)


GOOGLE ACADÉMICO (búsqueda autor)